A cat can eat cockroaches, it is normal. But the worrying thing is cockroaches are often exposed to insecticides. If a cat eats Insecticide cockroaches, so it can be happen bad.
Don't be agitated if your kitty eats a cockroach, just keep an eye on him. If you see something happen bad with your cat, then the emergency contacts a veterinarian.
What Happens to a cat when a cat eat a cockroach?
Cats do eat insects like roaches in general. Sometimes it doesn't agree with them while eating. Considering how gross the idea is, it's never really a surprise to me when one of my cats is retching after eating a cockroach.
If your cat throws up, retches, or shows any other similar symptoms it's a good idea to keep an eye on them all the time. It's most likely going to be due to one or more of the following. The roach was too big or too hard for the cat to swallow.
It's pretty gross just thinking about this in detail for real. But a cockroach has a hard shell on their body and an exoskeleton that is hard to swallow and digest for cats.
Like most animals, cats have the ability to throw stuff up quickly if they think it's going to be too hard to digest or cause them problems. They are experiencing gastrointestinal Issues in the digestive system.
As cat owners, it's not going to be the first time you've had to clean up after your cat had some gastro issues from eating something they shouldn't have in general.
When cats eat something they're not used to eating, it's not uncommon for them to have some issues. If your cat vomits it's crucial you know they drink some water within the day to stay hydrated. If not, it's best you call a vet or take it to a hospital to be on the safe side.
What if my cat eats a poisoned roach?
It's not often a serious problem for cats. Already told, eating a cockroach that has come into contact with poison can cause your kitty some gastrointestinal issues in their digestive system. The risk is small and so don't worry even if you think your cat has come into contact with this trap.
The following chemicals are effective at killing roaches- boric acid, Hydramethylnon, and fipronil etc. These can be harmful to other pets also.
Do roaches carry harmful parasites that may affect cats?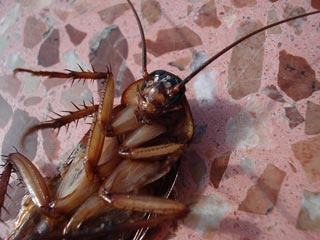 Cockroaches are capable of carrying harmful parasites and a number of diseases that can cause both us and our pets some health issues. They aren't direct vectors of disease like insects that bite. It's from coming into contact with something that they've contaminated or eating them that causes contamination.
They can carry some serious diseases like cholera, salmonella, E.coli and dysentery. A parasitic worm larva can take up residence in a kitty's insides. In that case not a cat will display symptoms of gastrointestinal issues. Consult with a vet if they're displaying symptoms for more than one day.
What to do when a cats eating behavior gets weird?
As domestic pet owners, we like to make our cats used to have some particular meal. A balanced diet food will be the best for them. They used to live in nature and had their meals from outside. But we don't want them now to eat something like cockroaches.
We are not used to watching them eating those little creatures. We need to know whether they are good for them or not. Actually, they are not toxic to them. They may have them often. But it is not wise to have cockroaches in their daily meal.
If a cat is used to having them then we need to do something to teach them about good and bad meals. 
Chasing a cockroach is entertainment for cats
This is an entertainment for cats to catch insects and play with them. It's not like they are hungry a lot and so they can't wait. When they see something, they get excited and go for it.
Of course the species should be little from theIts like a mechanism for their survival. It's written in their genes and is a habit. They went into town and got food from their owners.
Try to give them some dental treats and toys. This may help them to stop chasing cockroaches. Cockroaches are an insect with good speed and so they are a good species for chasing. 
Is Cat Effective as Cockroach Killers?
Cockroach killers are some kinds of poison that kill them. They are harmful to both humans and animals. See the label that is written on a pest killer. This cant be substituted by cats. Actually, cockroaches hide in some places where humans or some other animals like cats can't reach.
When a cat watches a cockroach, it chases for it and in the meantime the insect tries to run away in some places where they can't be found. Spray-type killers can reach there to kill insects but your cat might not get there.
It's the nature of cats to hide in a darker place, so it is quite impossible for a cat to find insects in narrow or darker places. It is not wise to treat a cat as a cockroach killer.
Using cats to catch mice on farms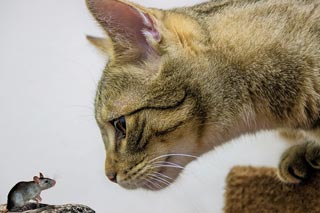 It's not a good idea to use cats to get your roach problem under control. Maybe You've heard of cats being used on farms to keep the mouse population under control. This is a very different circumstance.
Cats are more effective for catching mice on farms. There is so much more room and open space for them to work with and catch them in farms.
Moreover, mice are bigger and more obvious hunting prey for cats. Roaches indoors is another story to tell. You're going to be much better off going down the usual route of using roach traps or calling out a pest control company to catch them strictly.
Solution of killing pests by keeping your cat safe
Sticky traps
You can place these somewhere your cat will not get their paws on easily. The best thing about these traps is that they trap the roach. They don't let them pick up poison and come into contact with your cat or on the surfaces you'll touch.
Homemade techniques
There are also some homemade products that are safe for pets. Those procedures are practiced by common people for years. But to be honest, those are not as effective as the two options above.
Diatomaceous earth
Diatomaceous earth is very effective stuff for pest control. People use it to keep their cat's bedding free from fleas, to kill pests in the yard, and more. It's effective for killing roaches, and it's a natural product that's safe for use around cats and other household pets. It has to be food grade though for the best purpose.
Final Thoughts
Teach your cat strictly not to chase a cockroach and eat it. Some cats learn very fast but some of them take time to learn. Don't be disappointed. Take time.
Cats hunt, play and eat cockroaches. Although they are well behaved and taught well but still they can't forget their wildlife behavior.
We discussed earlier that eating cockroaches by the cat is not a serious issue in general, It gets worse sometimes and creates issues for both pets and owners. Try to follow the advice that we mentioned. If anything happens seriously then consult with a doctor or visit a nearby hospital.
His professional interests include humane education, ethics, small animal behavior, and veterinary. As a pet lover from school life, having grown up with two cats and a dog. If he isn't spending time with his friends and family, Justin enjoys traveling. Learn more about Justin here.