To stop your cat from hunting mice, keep your cat indoors, as this is the most effective way to prevent hunting altogether. Provide engaging playtime and interactive toys to satisfy their hunting and pouncing instincts.
Create a stimulating indoor environment with climbing structures and hiding spots. Ensure your cat feels secure and respected in their territory to reduce the urge to hunt.
Hire an exterminator to keep your home mouse-free, eliminating the need for your cat's hunting services.
Pamper your cat with love, attention, and a well-balanced diet to discourage hunting behavior. By implementing these measures, you can promote a happy and content indoor lifestyle for your feline companion.
Why Do Cats Hunt?
Cats hunt for a variety of reasons deeply rooted in their evolutionary history.
Historically, cats lived independently, relying on their hunting skills to secure food, much like their larger feline relatives such as lions and tigers.
Successful hunters passed on their genes, shaping the hunting instincts of modern cats.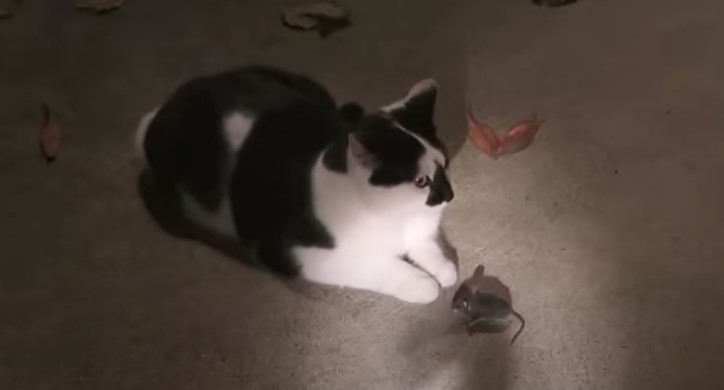 In today's domestic setting, cat hunting serves a different purpose. It becomes a form of amusement and stimulation.
The mere sight and sounds of potential prey trigger their instinctual drive, an innate trait firmly embedded in their brains.
When faced with the fluttering wings of a bird or the darting movements of a small mouse, your cat's hunting instinct awakens, often overpowering their resistance to engage in playful or exploratory hunting behaviors.
Is Your Cat Hunting Because They're Hungry?
While many owners may believe that their cat's hunting behavior is solely driven by hunger, this is not always accurate.
International Cat Care highlights that if cats were solely reliant on their own hunting success for sustenance, they would need to catch an astonishing 10 to 20 prey animals daily.
This substantial requirement becomes challenging considering that each hunting attempt has less than a 50% chance of success.
Consequently, cats have evolved to seize any opportunity to hunt. whether the cat is hungry or not, as this behavior is deeply ingrained in their instincts, prompting them to pursue prey whenever the chance arises.
Why Does My Cat Keep Bringing Me Dead Animals?
Cats frequently bring dead animals to their owners for various reasons, which may include the thrill of the hunt, safety concerns, teaching, and gifting.
Understanding these behaviors can shed light on your feline companion's motivations and help you respond appropriately.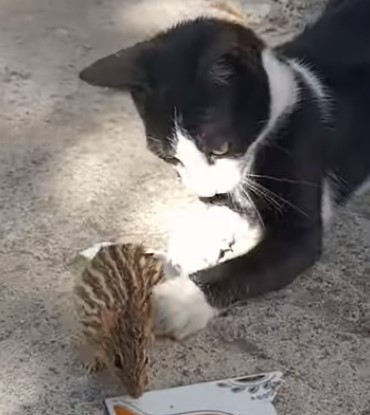 1. The Thrill of the Hunt:
Cats are natural hunters, and hunting is deeply ingrained in their instincts. Catching prey provides them with a sense of accomplishment and fulfillment.
When they present you with their "catch," it's like a trophy, showcasing their hunting prowess.
The act of hunting triggers the release of dopamine in their brains, creating a pleasurable sensation.
2. Safety Concerns:
Cats consider their human owners as part of their family or social group. By bringing you prey, they might be demonstrating their ability to provide and protect.
They perceive your home as their territory and may bring the prey indoors to keep it safe from potential threats, such as other cats or predators.
In some cases, cats may offer their owners prey as a way of sharing and ensuring that everyone in the group is well-fed.
3. Teaching:
Mother cats often teach their kittens how to hunt by bringing them injured or dead prey. If your cat sees you as a part of their family, they might be attempting to teach you how to hunt by presenting you with their catch.
While this may not be your preferred method of learning, it's their way of bonding and sharing a skill.
4. Gifting:
Cats may perceive you as a less skilled hunter and bring you prey as a gift to contribute to the group's food resources. This is a display of trust and affection, as they are sharing their hard-earned catch with you.
They may expect you to appreciate their offering and even eat it, as cats sometimes do.
5. Overstimulation:
Cats have a natural predatory sequence that includes stalking, pouncing, and finally, the capture of prey. Sometimes, they might complete this sequence without intending to present you with the prey.
If your cat suddenly brings you a dead animal, it could be due to the excitement of the hunt, and they might not have planned to involve you.
6. Attention and Interaction:
Your cat might bring you dead animals as a way to seek attention or initiate play. They know that this behavior tends to get a strong reaction from their owners.
They may want you to engage with them, pet them, or play with the "gift" they've presented.
7. Environmental Factors:
Cats can be influenced by changes in their environment, such as the presence of other animals or disturbances in their usual hunting grounds.
If there are new cats in the neighborhood, your cat might increase their hunting activity and bring you more prey as a response to perceived competition.
8. Dietary Preferences:
In some cases, your cat may bring you prey because they have specific dietary preferences. For instance, if they prefer certain parts of the prey or only eat a portion, they might leave the rest for you.
This behavior can be seen as an extension of the gifting aspect, where they share their preferred parts of the catch with you.
9. Health Issues:
In rare cases, excessive hunting and presenting prey may be a sign of underlying health problems. If your cat suddenly increases this behavior, it's a good idea to consult with a veterinarian to rule out any health issues.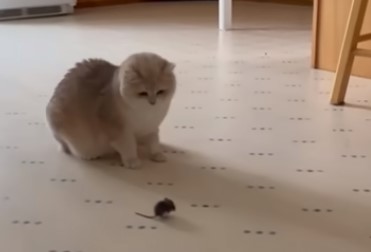 10. Seasonal Patterns:
Some cats exhibit stronger hunting and gifting behavior during certain seasons when prey is more abundant or when they are more active due to temperature changes.
Understanding these seasonal patterns can help you anticipate when your cat might bring you more prey.
11. Managing the Behavior:
If you find the constant presentation of dead animals unsettling, you can try redirecting your cat's hunting instincts through interactive play with toys that mimic prey.
Consider keeping your cat indoors or providing them with an enclosed outdoor space to limit their hunting opportunities.
If you receive a "gift," it's okay to express gratitude but avoid scolding or punishing your cat, as they may not understand the negative reaction.
How Do I Stop My Cat From Bringing Me Dead Mice?
If you're looking to discourage your cat from bringing you dead mice, there are several effective strategies to consider.
While it's important to remember that this behavior is natural for cats, you can employ these methods to minimize it.
Keep Your Cat Inside
One of the most straightforward ways to prevent your cat from bringing you mice is to keep them indoors. This eliminates their opportunities to hunt and capture prey in the first place.
An indoor environment also keeps your cat safe from various outdoor dangers, such as traffic, diseases, and predators.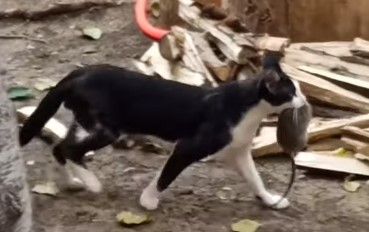 Put a Collar with a Bell
Adding a collar with a bell to your cat's attire can serve as an audible warning to potential prey.
The sound of the bell may alert small animals, giving them a chance to escape before your cat can pounce.
However, keep in mind that some cats may become skilled at moving quietly despite the bell.
Limit Your Cat's Time Outdoors
If you allow your cat outdoor access, consider restricting their outdoor time to specific periods, such as during the day when wildlife is less active.
Supervised outdoor playtime in an enclosed space, like a cat enclosure or leash walk, can provide an outlet for their hunting instincts without allowing them to roam freely.
Appreciate the Gift
When your cat presents you with a mouse, try to appreciate their intent and the gesture, even if the sight is unsettling.
Offer verbal praise or gentle petting to acknowledge their effort and reinforce your bond.
Wear Your Cat Out
Engage your cat in interactive play sessions using toys that mimic prey, such as feather wands or laser pointers.
Regular playtime helps them expend their energy and fulfill their hunting instincts indoors, reducing going outside.
Don't Make Easy Prey Available
Minimize access to potential prey within your home. Keep food securely stored in airtight containers and clean up any crumbs or spills promptly.
Seal any openings or gaps in your home where mice might enter to make it less inviting for them.
Play More
Increase the frequency and duration of playtime with your cat. Engage in active, stimulating games that mimic hunting scenarios.
Providing mental and physical stimulation through play can help satisfy their hunting instincts.
Training
Consider training your cat using positive reinforcement techniques to modify their behavior. When they display unwanted hunting behavior indoors, redirect their attention to a toy or treat.
Reward them when they engage in desired behaviors, like playing with designated toys instead of hunting.
Conclusion
Remember that consistency is key when implementing these strategies. Cats are creatures of habit, so it may take time for them to adjust to new routines and behaviors.
Additionally, keep in mind that each cat is unique, and what works for one may not work for another.
His professional interests include humane education, ethics, small animal behavior, and veterinary. As a pet lover from school life, having grown up with two cats and a dog. If he isn't spending time with his friends and family, Justin enjoys traveling. Learn more about Justin here.