The Purrified Air litter box air filter is the result of years of research, experience in other forms of air filtration and learning the needs of cat owners.
What's more, the thing is so overengineered that it also works in bathrooms, kitchens, workshops and, with a kit, in pet and athlete transport vehicles.
The air filter does a great job against smoke, pet urine and solid waste smell. People who are allergic to cat stuff can get relief by using it. We know how hard it can be to find a litter box that works for you and your cat. One of the nice things about Purrified Air is its adaptability.
It works for the vast majority of litter box types, covered, domed, and open trays. Their website shows a variety of adapters and brackets that make it so useful.
Is a cat litter air purifier necessary?
Buying new stuff could be a hassle for some buyers. But, after learning about the benefits of using this air filter, we think you will be happy with your decision. Not all cat owners need it but if household cat odor is any kind of issue for you, it should really help to make your home smell better.
This purifier will make your indoor air fresher than before by keeping the odor of cat urine and solid waste away. Litter boxes alone do very little to eliminate odor. I think we can agree that the tiny, passive carbon pads some have, do next to nothing to eliminate litter box odor.
Remember that, regular cleaning is very important also. Otherwise, you won't get the full benefit just by using an air purifier.
Choosing an air purifier: What to know before buying
A Variety of air purifiers are available in the market. Therefore, it is wise to know about purifiers before buying. Consider the following issues regarding an air purifier for your litter box(es).
The purpose of buying
Do you want to buy an air purifier for more than one job? Different purifiers serve different purposes. A chain smoker needs a special type of purifier to clean the room's air. For a particular job like purifying the odor of cats, you need to buy a purifier targeted to at those odors.
Choose an air purifier that can deal with cat urine, feces and fur to get the maximum benefit out of the machine.
Size of the purifier
Consider the volume of the room where the air purifier will work. A large room needs a large purifier with a large fan inside.
All the chemicals inside the air purifier should be in the proper amount to purify the volume of the room. Measure the volume of the room and then choose the appropriate size of the air purifier.
According to company literature, Purrified Air pulls more than 51 cubic feet – that's more than some bathroom fans — of air per minute through a 2.2 pound filter bed of activated carbon (for feces smell), zeolite (for urine smell), catechin (Google "catechin air filtration." You will be as amazed as we were) and negative ion ceramic balls for additional odor control.
These substances also remove pet dander, allergens, and microorganisms such as bacteria, mold and viruses. A prefilter pad captures kicked-up litter dust.
Choosing the right cat litter with low dust
Low-quality cat litter can have excessive dust. This puts more pressure on the purifier. Granular-type litter is good in that case as it has a very low amount of dust. Cats generally play with litter and powder is made by friction of litter particles.
There may be other stuff floating in the air but we can minimize the dust in the air that keeps less pressure on the air purifier.
The company recommends removing the filter media cartridge once every month or two and lightly vacuuming the filter pad with a brush attachment on your household vacuum.
Think about the allergies of your cat
Like humans, other animals are also allergic to some specific particles. We generally think about our ailments but we should also think about cats' discomfort.
Consider the filtration techniques that are used in the purifier so that it can filter the air properly. Some purifiers use special types of filters for this purpose.
Look for the warranty period
The price of a good purifier is quite high. It is always a good thing to have a longer period or warranty for machines. The product might be damaged during shipment. At least one year of warranty is recommended. Check what type of warranty the manufacturer serves.
The Purrified Air unit has a fairly standard warranty of one year. Added to that, the fan itself is warranted for as long as you own the device. If it ever stops operating, just send it back for replacement or repair.
Availability of accessories
Make sure that the important parts of the product are easily available nearby. The availability of filter media refills is also important.
The whole system won't work without a new refill and moving fan. These refills last about six months, according to the company. 
Best air purifier for cat litter odor: Purrified air litter box air filter
Features
Product dimensions: 9.25 x 9.25 x 4.25 inches
Item weight: 4 pounds (1.81 KG)
Manufacturer: Slipstream Air Purification Systems LLC
Specific uses of this product: Litter box air filter, room air filter, vehicle air filter, ferret cage filter, etc.   
Material Composition: One kG of a proprietary mix of air filter media, ABS plastic
Warranty Description: One year limited warranty against manufacturer defects. Lifetime warranty on fan.
Included Components: Filter, Media cartridge, Alcohol cleaning pad, Instructions, Power Supply.
Import Designation: Made in USA and Imported
How it works
The purifier filters air in five stages. In the first stage, a filter pad blocks dust that emerges from the cat litter box. In the second stage, catechin treated filter pad works against microorganisms. This chemical is extracted from green tea which also helps to remove odor.
Combination of the mechanism of stages one and two trap and deactivate some bacteria, and viruses along with filtering tobacco smoke and pet smell. In stages, three to five, active carbon, zeolite and negative ion ceramic balls do their jobs.
Volatile organic compounds that are found in cat waste can be removed if the flowing air passes through the proper amount of active coal in the right direction. Various odor-producing bacteria are killed by negative ion ceramic balls. 
Setup
If there is any existing filter pad in the litter box vents, then remove it.
Before applying the hook and loop pads, clean the top of the litter box cover with a strong cleaner such as rubbing alcohol.
Remove the protective cover on the hook and loop pads completely.
Press the unit down firmly. Keep it at the center over the top vents of the litter box so that it can pull in all air from the litter box. Don't pull up on the hook and loop pads for 24 hours for the adhesive to work with maximum strength.
Remove the filter media cartridge from its airtight wrapping for activating the filter media. Make sure that the side with the prefilter pad is facing down at the bottom of the unit.
Use the two thumb screws that are supplied with the unit to secure the top to the bottom. Turn until snug to eliminate air gaps between the two pieces.
Make sure that there is at least 1.5 inches of gap above the filter for proper air flow if it is kept under any furniture.
Plug it in into a power source. Wait for an hour to notice a large improvement of air in your room. The unit is designed for continuous use because there may be waste in the litter box at any time.
Where to put your air purifier?
The best place to attach a purifier is on the top of the cat litter box. There are several types of cat litter boxes available in the market. Generally, they are open trays, covered with a flat top, and covered with a dome top.
For open trays, you will require their wall-mount/table-top bracket to mount the filter above the litter box on the wall, or on a counter top near the box. For flat-top covered boxes, remove any existing filter pad in the vent, and place the filter over the vent.
If there is no vent, simply cut a 5-1/2" square hole in the top. For dome-shaped tops such as the Booda model, you will need their dome adapter.
Place the whole thing near a power source as it operates with AC power supply.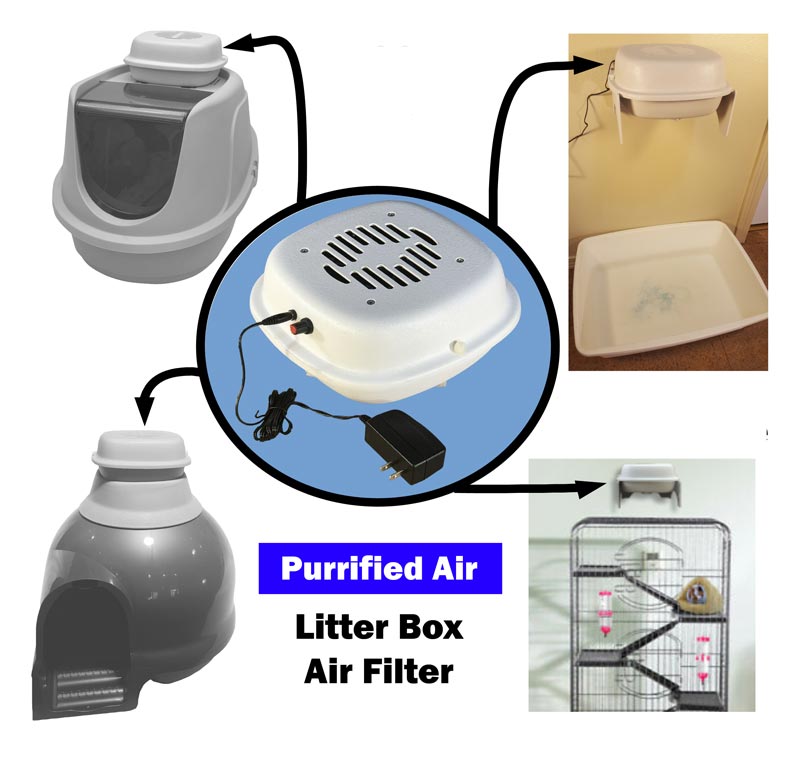 Pros and Cons
Pros
The fan in the purifier is almost silent, effective, powerful and that's why you or your cat won't notice any noise. Fan speed is adjustable. If your cat is sensitive to the small amount of noise, start out on slow and gradually work it up to the slowest speed that does the job.
There is no need to buy a new cat litter box as it has a good mounting system that fits all types of litter boxes and cages, covered or open. Both flat or dome type litter is adjustable with it.
It can be installed not only in home but also in pet transport vehicles, mobile homes and family athlete transport vehicles.
The filter is combined with several proven odor-destroying technologies that work against pet odor, pet dander and allergens.
For controlling the unit, it has an on/off switch and a speed controller.
The fan in it will be replaced free if it ever fails.
30 days of money back guarantee comes with it.
The fan sucks the air from the litter box and helps litter to dry fast.
In the filter media, there is one KG mixture of odor destroying chemicals like carbon, catechin, zeolite and negative ion ceramic balls that lasts for 4 to 7 months depending on its uses.
Besides the cat litter box, it also works as a room air filter for kitchens, washrooms and garages.
Shipping cost in the USA is free.           
Cons
Some users find it expensive compared with other cheap products.
Doesn't come with variable colors.
Need to run all the time that consumes electricity.
Some people look for emerging Ozone that is not produced here. 
FAQ's
What type of air purifier is best for eliminating cat odors?
The purifier must have a strong fan that can suck air from the litter box. It must contain proper filter media that can neutralize odor.
What are the best ways to reduce cat smells from litter box dust?
There are some chemicals like carbon, catechin, and zeolite that can reduce cat smells. Replace used litter time to time. Keep the litter box in a well ventilated area. 
Will an air purifier help with cat litter dust?
Yes, a prefilter pad can extract cat litter dust. In that case, the paper must be cleaned up time to time. The dust with air must go through the filter media for having clean air.
Do air purifiers help with pet odor?
Yes, the air purifier that contains proper filter media can reduce pet odor. Replace an old cartridge with a new one when needed.
Does air purifier help with pet hair?
Yes, air purifiers can help with pet hair on some level. But the air with pet hair must go through the filter media of the purifier. Try to groom your cat often and clean its loose fur manually for the best result.
How to use it with a pet safe automatic scoopfree self cleaning litter box?
You can cut a vent opening in the hood, set the filter on top and you are done. It's very easy. You can take help from YouTube videos for this process.
How much power is required to operate the unit?
It runs the whole time. Therefore, it could be a concern for some users. It draws only 3 watts of power.
What is the quality of the attached fan?
The fan is rated for a minimum of 50,000 hours continuous use which is equivalent to 5.7 years. The fan is guaranteed for as long as you own the filter. If it ever fails, send the top cover containing the fan to the manufacturer for free replacement.
How often do I need to change the cartridge?
The included cartridge is designed to last for four to seven months but it depends on the load that it deals with. New cartridges are available from the manufacturer (purrifiedair.com) or Amazon.
How to maintain the purifier for long lasting?
Remove the cartridge and slowly vacuum the filter pad to assure optimum air flow. Keep the fan clean. Place the whole unit in a well ventilated area.
Final thoughts
We have discussed briefly air purifiers, their importance, and what to consider before buying. We investigated Purrified air litter box air filters in detail and found many advantages over other products.
It is not required to change the old litter box as it fits on many different shaped litter boxes. Refills are easily available and one refill goes for many months.
The warranty period is quite reasonable compared to others. Major allergic substances are filtered by this product. People who used this product gave good reviews on the internet.
Some people think about the cost. But considering how well it works it definitely is a great value. You need to remember that it lasts for a long time so that you don't need to buy cheap purifiers again and again. This could be a great investment in your budget.
His professional interests include humane education, ethics, small animal behavior, and veterinary. As a pet lover from school life, having grown up with two cats and a dog. If he isn't spending time with his friends and family, Justin enjoys traveling. Learn more about Justin here.