Our beloved cat is the sweetest thing to adore. People try to do their best for their pets. But sometimes the situation gets messy. Cleaning is a difficult thing for some people. It is quite difficult for the people who live a very busy life in town. But this is not impossible.
The cleaning process should be done scientifically so that no germ or parasite can live over there. To reduce odor, it is wise to learn some training by reading some books or watching some videos about it. You can also take help from a vet.
9 Ways to Reduce Litter Box Smell
You have kept the litter box neat and clean. Smell can't stop fully but it is possible to reduce the smell from the litter box. Here are few key points to control litter box odor.
1. Scoop Litter Box Regularly
First of all, remove all the particles that smell inside the box. Try to clean the boxes regularly and daily if possible. If you are not able to do this, then scoop it one day after another. This will make your pet happy and you also.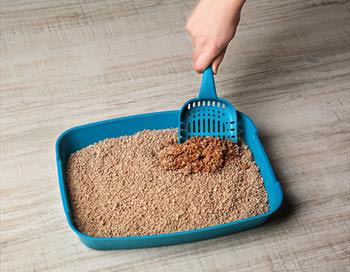 Cleaning litters can be the easiest thing to do to keep odor away. This will help to keep your nose away from bad odors. There are automatic scooping boxes available in the market now. You can also buy this from online shopping too. But some cats are not used to with this technique. That's why they could get scared of it and go away.
They will get used to it slowly. Give them some time so that they can manage this box. On the other hand, you can just stay fine with your old one. Be careful about buying a new type of litter box because cats may not like the new one. That's why don't garbage the old one instantly.
2. Amount of litter
It is wise to use the right amount of litter in the box. An expert will tell you how much litter is needed for the specific size of a litter box. Too much litter is not good for the environment. As many germs and parasites can stay in the deep of the litter. You can try to change the brand of litter from time to time. Just watch which type of litter the cat likes.
3. Keep Litter Box Clean
If scooping is done regularly, then it is the best thing to do. The weekly cleaning process is not a good habit for both cats and the owners. You can wash the whole thing every month full. To do so, empty the litter from the box and scratch them completely.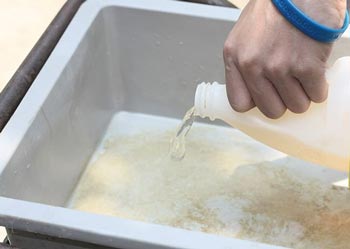 Make sure to wear gloves on both hands so that there is no chance for waste particles to touch your skin. There may be some little insects that could have you and get you diseased. It is good to clean with water and so. Not necessary that you clean it with bleach or any other chemicals for extra cleaning.
And another thing is, cats usually don't like bleach smells and other stuff. After cleaning with water, dry those boxes by letting them stay under the sun for a couple of hours. After finishing all the processes, put fresh litter in it.
4. Using Baking Soda
If the problem is serious, then using baking soda at the bottom of the box is a good thing to do. Baking soda will absorb that bad smell from the box. It can control litter box odor. But make sure that it doesn't irritate the nose of the cat.
Using scent can remove the odor for a while but it could harm the nose and lungs of cats. That's why spraying perfume or scent is prohibited for use near the box.
5. Replace the Litter Box Once a Year
After using boxes for a long time they become old. Cats scratch them with their claws and germs and bacteria can grow in those little boxes. So, it is a good habit to change them every year. The box should be low on one side so that the cat can comfortably get out of it.
The size of the box should be at least as long as the cat from the tip of the nose to the tip of its tail. It is not all necessary but some cats like this type of box. Get anyone what it likes. Having on-site low is good for old cats.
Because their body moves less but it is not the case for little cats. For cat families, the size of the litter box should be such that all of them can stay there comfortably.
6. Best Place for the Litter Box
Place the litter box clean and low-traffic point, where your cat can get privacy. Some people want to keep cats in a small or paper made box. Keep in mind that keeping the box in a well-ventilated area is good for the environment. That will keep the place neat and clean so that it won't get any illness. Some cats like to be covered in their boxes.
Have some practice with the likeness of the cat to check what kind of box it likes. Snails move around in a field area poster that is why proper ventilation is very important. So, keep the litter box in a well-ventilated area.
7. Try to Clean Messy Thing Swiftly
Get ready to clean the waste that you find in the box. If the cat does its duty near the box, then try to clean it immediately so that the odor does not go around. There are some liquids available in the market that neutralize the odor.
Also, clean the carpet or sofa if the cat makes those dirty. Sometimes it is difficult to find out where the smell is coming from. You can use a cat urine detector flashlight to find the cat pee.
8. Using Pine Pellets
Some people use pine pellets instead of litter. Cats love it. You can also try pellets by mixing with liters. It is a cat's decision which one it likes. This could be a great experiment for cat owners who stop natural alternatives is always preferable. But the main problem is that it is quite expensive.
9. Use Cat Litter Odor Air Purifier
To purify cat odor a litter box air filter is very essential equipment. It will help to make your home smell better. It will reduce litter's bad smell and dust.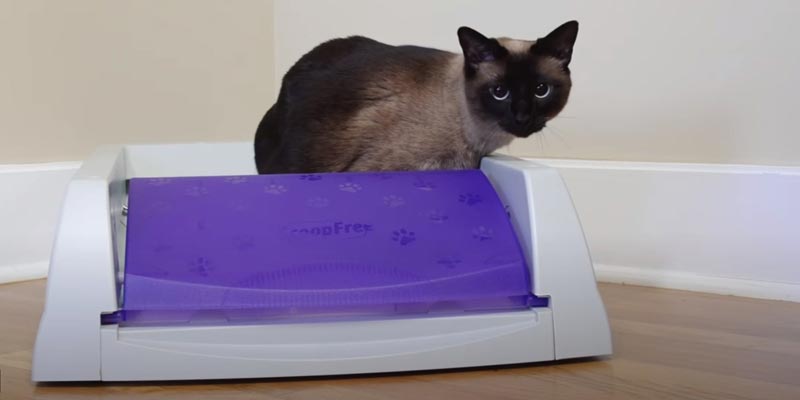 Does the Size of Box Matter?
Choosing wrong sized boxes will make them unhappy. Giving them a small box is like they are getting less space. Less space means less happiness for them. Keep them side to side so that they can choose where they are going to sleep.
Make sure that the sides of the box are not high enough. It will be difficult for old cats and those who have arthritis for something like that then they will not be happy.
It is wise to have more boxes for cats. One could avoid one box and go into another one. It is also good for multiple cats.
Can Bad Odor of Litter Make Your Cat Sick?
Illness can be another thing for a bad odor. Take him to the doctor from time to time so that it stays healthy and doesn't smell. Indigestion is another reason for bad smell. Check what kind of food you are feeding to your pet. The smell is very bad for the cats that have Asthma. The smell of litter boxes can also increase illness.
Final Thoughts
To summarize, odor is a difficult thing to avoid. You can't ignore it. But we can minimize the intensity of it. It is always the best thing to do that you use a well ventilated area and that could be near a window. Always try to avoid artificial stuff that would harm the sensitive skin of cats.
Cleaning regularly is a wise thing to do. always read the instruction manual that comes with any chemical that you are going to use to get rid of bad smell. Practice makes a man perfect. So always try to improve this situation by thinking about what you can do and what is under your control.
If all precautions fail then consult with your doctor or take it to a hospital to see whether it has any kind of disease or not. Visit from time to time the blogs that write about cats and stuff.
His professional interests include humane education, ethics, small animal behavior, and veterinary. As a pet lover from school life, having grown up with two cats and a dog. If he isn't spending time with his friends and family, Justin enjoys traveling. Learn more about Justin here.