We all brush every day at least for one time to keep our teeth and gum clean. Some people brush twice a day to have good hygiene. The same procedure is also applicable to brushing a cat's teeth. But if you are a new cat owner, the question will come to mind "how to brush cat teeth at home?"
This is not very hard to brush cat teeth at home. To do so, there are some procedures to follow which will be discussed in this article.
What is Needed to Brush Cat's Teeth?
Before brushing making in habit, couple of things to manage before. Remind that pet will not be used to in it in just a couple of days, it could take months to make it into habit. Some cats are good learners and they can learn things very swiftly and having this type of pet makes you a lucky person.
Cat toothbrush
A good quality toothbrush is preferable for the soft gum of a cat. Their teeth are different in size and shape and orientation, so they don't match with the human brush. They need such a brush that is suitable for them.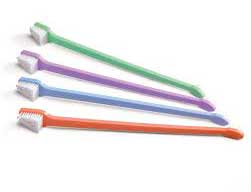 Soft materials are preferable so that it doesn't hurt cats gum while brushing. Soft bristles are also necessary. Using a brush is difficult for cats. It won't let you do it. But you know very well that it's the best way to get rid of various types of diseases.
Choosing the right brush for your pet is an important thing to do. So many varieties and colors are available in the market. Cleaning the brush is also important as it may spread germs. Keep it in a cool and dry place so that it can stay good for many days.
The best way is to keep them in a box. Take them when you are on a long vacation. Cats may feel uneasy about not doing brushes if they are used to it. Sometimes it may be required to clean the box also. It's your can and you have to take good care of it in good ways.
Cat toothpaste
Don't try to use human toothpaste for cats. Those are made with different chemicals. Using human toothpaste will make situations worse for teeth and gum. Buy cat toothpaste from a reputed brand.
They need specialized toothpaste that will take care of their teeth which also removes all the germs and bacteria that form into the gaps of teeth and gum. The toothpaste will cure a couple of common problems that easily happens in cats mouth.
A thin layer of plaque can be removed by brushing properly. These pastes have some special flavor. Generally, they are made with poultry flavors. That's why they would like to have a good brushing habit regularly. In fact, they will look forward to it.
Always avoid baking soda, salt, human toothpaste. They will be harmful if go into the stomach. You can skip brushing if toothpaste is run out. Choosing the best paste is a hard thing to do. Shop assistants might not know about it. You better consult with a vet about it.
Experienced cat owners also can help with this issue. Read the ingredients carefully. Consider your pet allergies. Consult with a vet or take it to a vet hospital if something bad happens while brushing with toothpaste.
You can observe it's behavior after getting a new brand product.
Can You do Brush Cats Teeth at Home?
It is not necessary to take the pet to the vet for this purpose. It's not an easy thing to do. You can do it with a proper toothbrush and toothpaste. Some YouTube videos are available that can help to teach you about this issue. Consult with other owners who have a cat earlier.
How to do Brush Cat's teeth?
Take it to a good place where it is comfortable. Place the cat in your lap near water so that you can flush the mouth. Give it a little amount of toothpaste into the mouth so that it can get used to in it. Continue this until it is comfortable for the pet.
Try to stick into the same toothpaste. It will get used to in it. Lift the lip of the cat gently to expose teeth and gum.
It is easier to brush in this way. Give mild stroke with the brush over tooth and gum. Go from front to back. Use in a circular motion to get rid of various types of germs hidden everywhere. Reward them, after all, is nicely done.
First few times you need to be very patient about brushing. Cats may resist against it as it is new for them. After trying for a long, it will get used to in it. Take it when other people are doing it to their cats. It will teach them to get used to it.
How Often to Brush a Cat?
The best way to do this is just after every meal. If not possible, then once every day. At least couple of times every week is a must. It is easy if the pet cooperates, but some pets might resist. Do it at your convenient time. To have a healthy cat, you need to undergo such process.  
Professional Teeth Cleaning in a Cat
The vet can do it well but usually we don't have to get much time for it. It's a good habit to do that once every year. They will check whether it needs extra care. He can also check overall health issues.
Gingivitis can lead to organ failure. We must be aware of that. Most pet insurance policies don't cover dental hygiene. So, to have financial benefits, you must think in advance. How much you are careful, professionals can do their best.
Briefly, brush your cat's teeth regularly with brush and toothpaste. Make it to get used to in it. Make a routine. Wish you all the best to have a pet in your sweet home.
His professional interests include humane education, ethics, small animal behavior, and veterinary. As a pet lover from school life, having grown up with two cats and a dog. If he isn't spending time with his friends and family, Justin enjoys traveling. Learn more about Justin here.